Best electric scooters in India 2021
India is now the world's third-largest emitter of carbon dioxide. The research estimates that CO2 emission in India grew about 1.8% in 2019. India is one of the world's quickly rising emitters resulting in climate changes, rising sea levels and melting glaciers. Even if India stands to be the major contributor to CO2 emission, it ranks in the major countries to effectively reduce carbon footprints caused by vehicles.
This can be possible due to the various government schemes such as FAME II, to uplift the EV user base in the country. The government has thus announced the revision of the FAME II policy to encourage more people to switch towards EV.
In line with these amendments and new EV policies declared, state governments are providing many subsidies and benefits to electric vehicle buyers, which is one of the most sustainable mobility solutions today. These government policies have turned EVs into more economic and budget-friendly mobility alternatives.
The Best electric scooter in India 2021
In India, Wardwizard Innovation & Mobility Ltd. has entered the battle to provide greener lifestyle options since its inception, under the brand name of 'Joy E-bike'. Joy E-bike is a constant endeavour of providing its customers with stylish, powerful yet affordable electric vehicles.
Students from class 9th onwards are eligible for buying the best electric scooter in India 2021
https://m.facebook.com/story.php?story_fbid=932559527321664&id=136779440233014
In accordance with the approval to 'Joy E-bike' for subsidy programme 2021-22 by Gujarat Energy Development Agency (GEDA), it grants the students from class 9 to college-going students, to avail subsidy worth Rs.12000 on ex-showroom price on four of Joy E-bike's two-wheelers.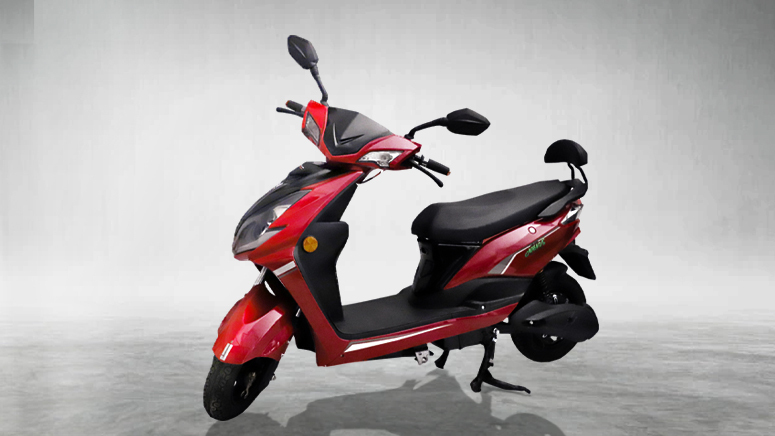 Gen-next Nanu being a tech-savvy e-scooter model ensures amazing features to drive hassle-free in the city and is considered as one of the best scooters in India 2021. It promises something more than expected.
Glamourous Gen Next Nanu
The best electric scooter in India 2021 is as stylish as any other fuel-driven counterpart and definitely more eco-friendly. The 'Gen-next Nanu' is the electric vehicle truly designed for the new generation.
The glamourous Gen Next Nanu is at par with the mark of perfection! This e-scooter is full of classic flair with extraordinary smart features making your ride a once-in-a-while experience.
Smart tech-savvy features
The e-scooter is equipped with a reverse assist and remote key features making your ride more convenient than ever. The e-scooter is facilitated with three driving modes which assist in different speed modes. This makes riding in traffic-prone, urban areas super easy.
Driving modes & Reverse assist
Unlike any other traditional two-wheelers, Gent Next Nanu comes with the provision of reverse assist. The Reverse assist saves you the time to turn your vehicle in little space. You can simply press the Reverse assist button which will take your e-scooter in the reverse direction.
Remote Locking system
Unlike other two-wheelers, the Gen Next Nanu comes with a swanky remote lock, where you can start or stop your vehicle with just a click.
Digital LED Display
The digital LED display comes with a battery status indicator, speedometer, trip meter and driving mode indicator.
The super smart and efficient battery level indicator easily indicates when to charge your vehicle. Thus charging at the appropriate time is not a task anymore.
Phone charging socket
The e-scooter provides you with the charging socket to charge your phone while you ride, along with the front side basket where small kinds of stuff can be easily kept.
Comfortable Ride
The length of Gen Next Nanu is 1800mm to be precise, which furnishes more leg space, letting you drive comfortably. The back-rest promises to provide absolute comfort to the person accompanying the driver.
Technical Specifications
The e-scooter works on a BLDC motor. BLDC motors (BrushLessDC) have high torque to weight ratio providing increased efficiency by providing more torque per watt. BLDC motors are more reliable, have lesser noise and ensure longer battery life by eliminating brush and commutator erosion.
2. Wolf: Be the Alpha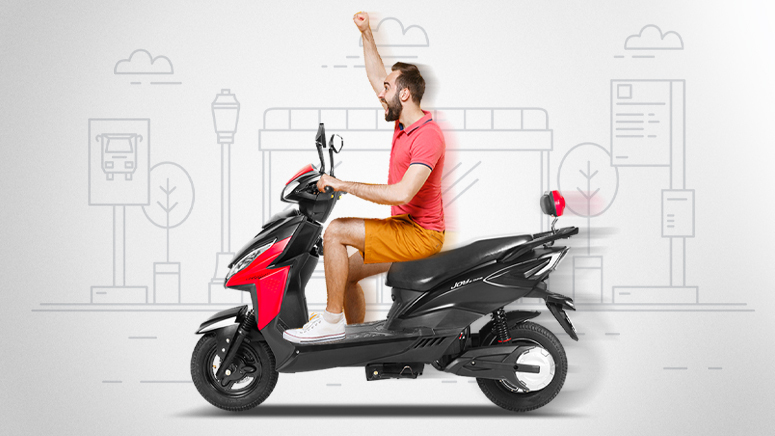 Take your riding a notch higher with the Wolf as it is fitted with alloy wheels to always keep you on track. Alloy wheels are lighter than steel, thus its light-weightiness enhances the performance and also improves the handling of your vehicle. Wider tyres of the Wolf provide you with a stronger grip to ensure a flawless riding experience offering the ultimate travelling performance.
Day's commute in one charge
The Wolf e-scooter is an extraordinary combination of style and sustainability. It ensures the travelling time per full charge to be 60km. Thus riding your e-scooter full-day is easily covered in one full charge. This speciality makes Wolf the best sustainable choice for your daily city commute.
NO Registration
As the Wolf is designed especially for city commutes, it falls under the low-speed e-scooters. As per the rules and regulations regarding electric vehicles in the country, battery-operated vehicles with a speed restricted to 25kmph do not require any registration. Thus Joy E-bike Wolf suits anyone and everyone looking for an easier and sustainable commute choice.
Lesser charging time
The Wolf Scooter requires merely a few hours of charging to be fully charged from zero. With a faster charger, it takes 3.5hrs of charging time.
Drum Brake System
The e-scooter is furnished with drum brakes on both front and rear sides, as they ensure the utmost safety. This braking system requires low maintenance thus reducing the maintenance cost.
Extra Leg Space
The stylish e-scooter is designed for the everyday commute, thus the feature ensures a comfortable ride. Wolf is a perfect fit for anyone and everyone. The super-smart e-scooter comes with extra leg space accompanied by extra boot space. This makes it easier for you to carry additional luggage without any hindrance.
Remote ignition operation
Another amazing feature of Wolf is its remote engine operation. It helps you to start your vehicle with your smartphone through the Joy connect app. The Joy e-connect app provides an upgraded riding experience for your Wolf.
Reverse assist
The Wolf e-scooter is provided with the feature of reverse assist. The reverse mode is given along with three gear options. It ensures an easier riding experience without any hassle.
3. The Smart Glob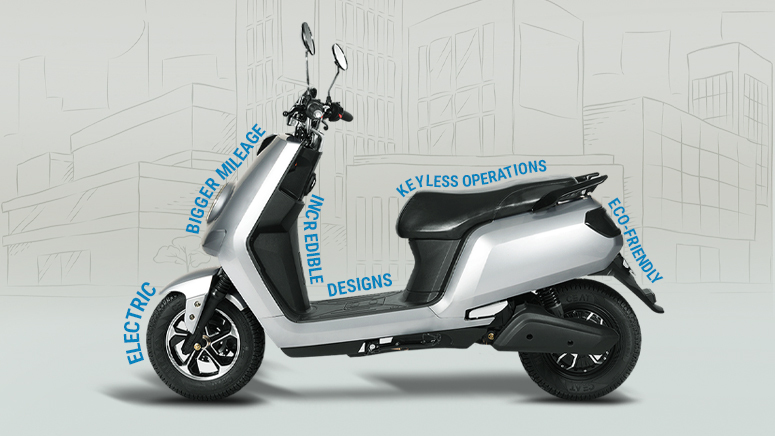 Quickest Electric bike by Joy E-bike
The smart new Glob is engineered to be one of a kind e-scooter. With the sleek design and cool technical features of the Glob, it ranks in the best electric scooters in India in 2021.
Alloy Wheels & Hydraulic suspension
The Glob e-scooter is furnished with alloy wheels that provide you with a better grip on rough terrains. The hydraulic suspension system absorbs forces emanating from the road surface. Thus it gives you a more comfortable riding experience than ever before.
60v controller
The Glob e-scooter is equipped with a 60v controller which provides efficient charging and discharging of the vehicle. It is also compatible with multiple input voltage sources.
Hydraulic Suspension System
An extremely efficient suspension system makes riding the Glob e-scooter super comfortable. The Hydraulic Suspensions make sure to give you a relaxed driving experience. Its quick reaction time helps in the prevention of road accidents.
Different Driving Modes
Joy E-bike provides three gears in the Glob e-scooter. Three driving modes assist for smoother rides in different driving conditions.
The remarkable 'reverse assist' feature aids you in effortless drive in reverse direction.
No License
As this e-scooter does not require any registration and license, It is an easy and hassle-free travel choice for everyone. The Glob e-scooter by Joy E-bikes does not require any registration and license for driving the same.
Phone Charging facility
The Glob e-scooter is furnished with a charging socket for charging your phone. The provision of a front side basket makes carrying all small kinds of stuff easier.
Loading Capacity 140Kgs
Glob e-scooter comes with a high loading capacity of 140kgs. The highest loading capacity of the bike is the maximum advised load it can carry. The e-scooter
Revolutionary sustainable commute choices by Joy E-Bike
The growing global concern over climate change has inevitably driven the automobile industry onto the path of a green economy and sustainability.
The wide transition from traditionally petrol-driven vehicles to sustainable mobility choices through the electrification of vehicles allows the movement of lowering CO2 emissions, through electric vehicles (EV). Joy E-bike provides 10 models gaining popularity as best electric scooters in India in 2021.
At 'Wardwizard Innovations and Mobility Ltd.', under the vertical of 'Joy E-bike', we provide customers with low-speed e-scooters for a daily commute and high-speed superbikes for the off-road experience and rough terrains.