Best Electric Scooters in India, in 2022 | High speed electric scooters by Joy e-bike
Synopsis
Are you looking for India's best electric scooter? Are you looking for electric vehicles made in India? Are you seeking high-performance, cost-effective, and stylish electric scooters? Here's all you need to know about Joy e-bike's high-speed electric scooters, the Gen Next Nanu Plus and Wolf Plus, which are made in India.
Wardwizard Innovations & Mobility Ltd. has recently announced India's first-ever EV Ancillary Cluster, which will smoothen the supply of raw materials for the production of EV manufacturing in the country.
Joy e-bike launched two new high-speed scooters at Wardwizard's annual event, "Wardwizard Onlook 2022", held on 10th February 2022, live on YouTube.
Being a constant endeavour of providing sustainable and innovative mobility solutions, Joy e-bike's newly launched Plus e-scooters are completely manufactured in India.
Upgrade your rides with the all-new Gen Next Nanu Plus that is integrated with smart IoT features. This high-speed electric scooter is equipped with a dynamic dashboard, so you can have all your ride analysis in one place. Gen Next Nanu Plus is one of the best high speed electric scooters in India, in 2022.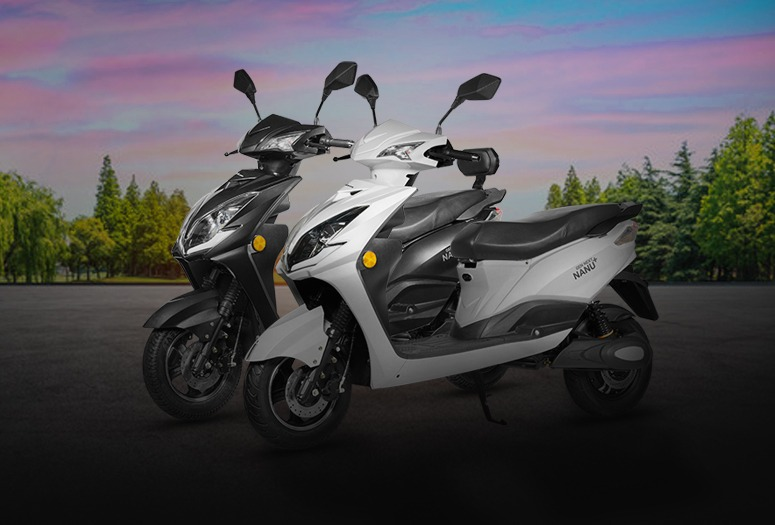 Stylish Gen Next Nanu Plus
Gen Next Nanu Plus, one of the best electric scooters in India, is manufactured in India and equipped with plus features. The Gen-next Nanu Plus is a high-speed electric vehicle that is truly built for the future generation.
This glamourous e-bike has reached the pinnacle of perfection! This e-scooter has a classic look and feel to it, as well as some unique features that will make your journey an unforgettable one.
Clever tech features
This high-speed e-scooter has IoT features, allowing you to control the ignition with your phone. Many more features, such as Anti-Theft Alerts, Geofence Setup, and others, will take you on a genuinely enjoyable ride.
Higher range with lower charging time
The improved battery capacity and rapid charging technology will help you save time while charging your vehicle. You can always travel places with the enhanced range of 100Km*/Full Charge, so you don't have to worry about mileage issues.
Vogue Colours
Built for all generations, the Gen Next Nanu+ comes in two vogue colours, Matte White / Midnight Black, so you can choose what suits you more.
Colour LCD Display
The colour LCD display comes with a battery status indicator, speedometer, trip meter and driving mode indicator.
The super smart and efficient battery level indicator easily indicates when to charge your vehicle. Thus charging at the appropriate time is not a task anymore.
Three Drive Modes
Whether you want to ride in the city traffic or want to go for a long ride, choose your driving mode and optimize your ride to the maximum. The Gen Next Nanu Plus provides you with Economy, City and Sports modes.
Gent Next Nanu Plus is also equipped with reverse assist mode. The Reverse assist helps you to easily reverse your e-bike without much effort.
Remote Locking system
The Gen Next Nanu comes with a smart remote lock, so you can turn on the ignition with just a click on your phone.
Powerful Battery
The 60V 35AH, powerful Lithium-Ion Battery is a perfect companion for your longer rides. The detachable battery provides you with additional ease of charging. The Gen Next Nanu Plus comes with an upgraded 55Kmph top speed.
The all new Wolf Plus is packed with a sleek design, powerful battery and smart features. The Wolf Plus, a high-speed e-scooter by Joy e-bike comes with improved performance and enhanced safety features.
The Wolf Plus high speed electric scooter is an extraordinary combination of style and sustainability. It ensures a 100Km* travel range per full charge. Thus riding your electric scooter the whole day long can be easily covered in single charging.
Powerful Battery
The powerful Wolf Plus is designed to make your everyday ride more comfortable and cost-effective. It has a strong Lithium-Ion battery with a 60V 35AH capacity, giving you an extra powerful ride.
Lesser charging time, Higher Savings
The Wolf Plus high speed electric scooter requires only a few hours of charging and consumes as less as 2.5 Units/charging cycle.
Trendy Colours
The Wolf Plus e-scooter comes in more trendy colours, Matte Black / Stardust (Grey) / Deep Wine, so you can flaunt your e-bike while you ride in style.
Extra Boot Space
This stylish high-speed electric scooter is designed for the daily commute and provides a smooth ride. Wolf Plus is ideal for those who are young at heart. It has an extra-large boot area, allowing you to carry whatever you need hassle-free.
Remote ignition operation
The Wolf Plus is engineered with amazing IoT features like remote ignition, trip history, trip planning, navigation and more.
You can simply set up a geofence alert, and get a notification on your phone if your e-scooter crosses the specified boundaries.
Once you connect your smart e-scooter Wolf Plus to the Joy e-Connect App, you can get all your trip analysis simply on your phone.